In August 1985 Craig Schofield travelled along with the rest of the RALEIGH BMX TEAM to the World Championships in Whistler, Canada.
Craig came home with the World Title in his class….
Superclass 20 inch
1. Craig Schofield - Great Britain
2. Xavier Redois - France
3. Phil Hoogendoorn - Holland
4. Leon Walravens - Holland
5. Luc Koehler - France
6. Nicolas Preece - Great Britain
7. Carlos Carrizosa - Mexico
8. Claude Vuillemot – France
And what was he riding… yep… a Raleigh Team Aero Pro Burner.
In 2006 while making preparations for the 2nd Burner Bash I had this notion that it would be real cool to get some of the ex-factory riders who rode for the Raleigh BMX team to come along and see the bikes and present the Show & Shine trophies. Never did I think I'd be able to achieve this, but if you don't try you never know.
Obviously the name that is most synonomous with Raleigh BMX and in fact UK BMX is that of Andy Ruffell. And the stalwart of the Raleigh Team was the man himself Craig Schofield. After a bit of internet research I managed to get hold of contact emails for both of them, never did I expect a reply but both guys got in touch.
To cut a long story short Craig has been kind enough to be special guest at 3 out of the last 4 Burner Bash events that we have held and this year Andy will be joining us for the first time… its like a Raleigh BMX dream come true.
Over the past few years I have chatted fairly regularly with Craig via email and text message, but it was one Saturday afternoon in January 2009 that I got a text from Craig quite out of the blue (I was sat outside the changing room's in NEXT waiting for my wife who was trying something on.)
"Hi Dave, I have my WORLDS bike from 85 in boxes in the garage, I'd like you to restore and rebuild it for me, let me know. Craig"
As you can imagine the smile on my face was something to behold. A few weeks later parts of the bike started landing at my address and PROJECT: Schofield85 began.
Now how do you go about a resto like this, if the parts had been in decent survivor condition I'd have built it as a survivor, but a lot of them were just too far gone to fix to a freshly coated Frameset.
I've spent a lot of times sourcing the missing parts but with help of just 2 photo's and the inside knowledge of Darren Wood I have rebuilt Craig's bike for him.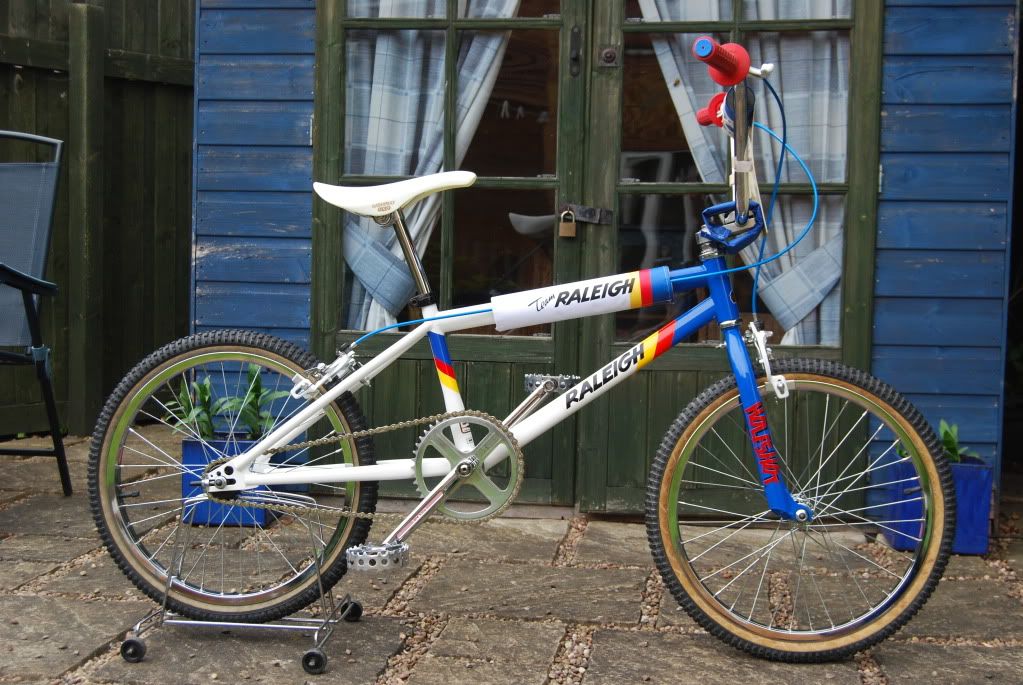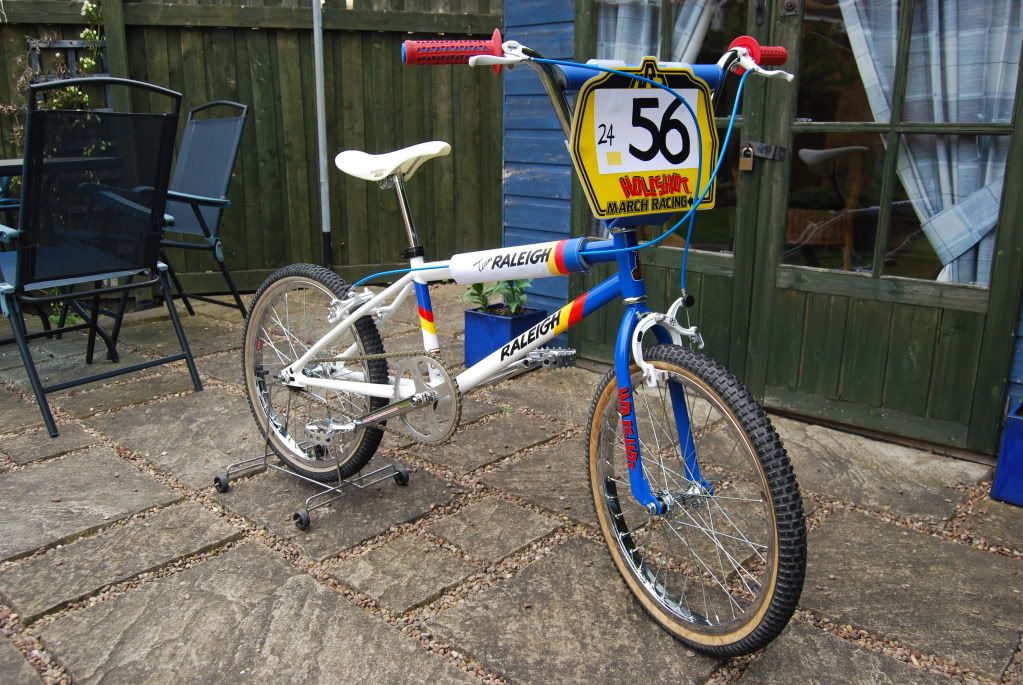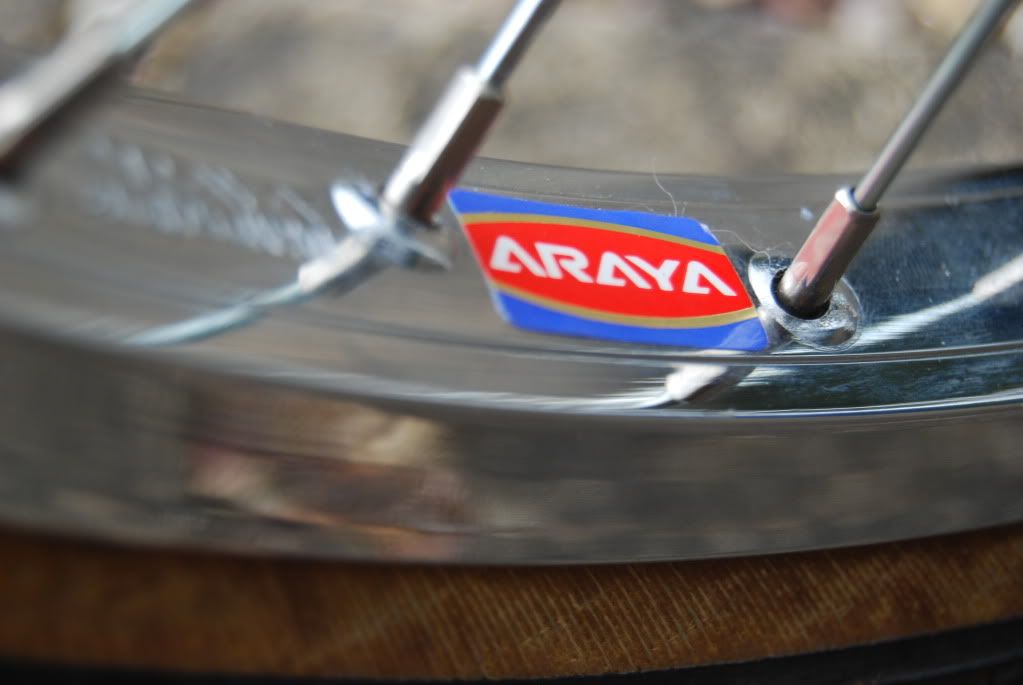 Its not a PRISTINE 'see your face in the bottom bracket' build, its VERY nice though. I was so cautious not to 'over-restore' items and I didn't want to use repro parts (sadly the original padsets just don't exist in any useable condition).
The Raleigh decals are NOS and you can tell, they are not in perfect condition but the colours are obviously correct and they add to the authenticity of the build.
Here's a breakdown of the parts that are actual surviving parts from Craig's World Championship winning Team Aero Pro Burner.
ORIGINAL
Frame & Forks
GT Pro Bars
ESP Flying W Stem
GT Seatpost (bent to suit)
Redline Flight Cranks
Hutch Beartrap Pedals
Redline Chainring
Suzue Sealed Bearing Hubs
Green & Yellow Label Comp II Tyres
MRD Race Plate
All other parts I have had to source.
MX1000 & Tech Levers
DC Cables (stamped 83 – looking for an 85 set if someone has some).
White Kashimax Aero
Suntour Seat Clamp
Chrome Araya 7X's
Decals (NOS)
Padset (Repro)
Craig has only seen it via a Text Message but is thrilled to bits, he'll be seeing it in the flesh on Saturday.. I hope I have done it justice, not all the replacement parts are NOS and some have the odd mark on but I think that adds to the build.
And before anyone jumps on me… I know the grips are wrong, well they are wrong and they are right, the bike he won the Worlds on in 1985 had A'me Unitrons, but they were BLUE with RED inners, these are the only ones I have been able to find in the reserve colour option (And I owe a huge debt to Bren (Ron Burgandy) who gave me this set FOC!). These will hopefully be replaced if and when the right ones appear.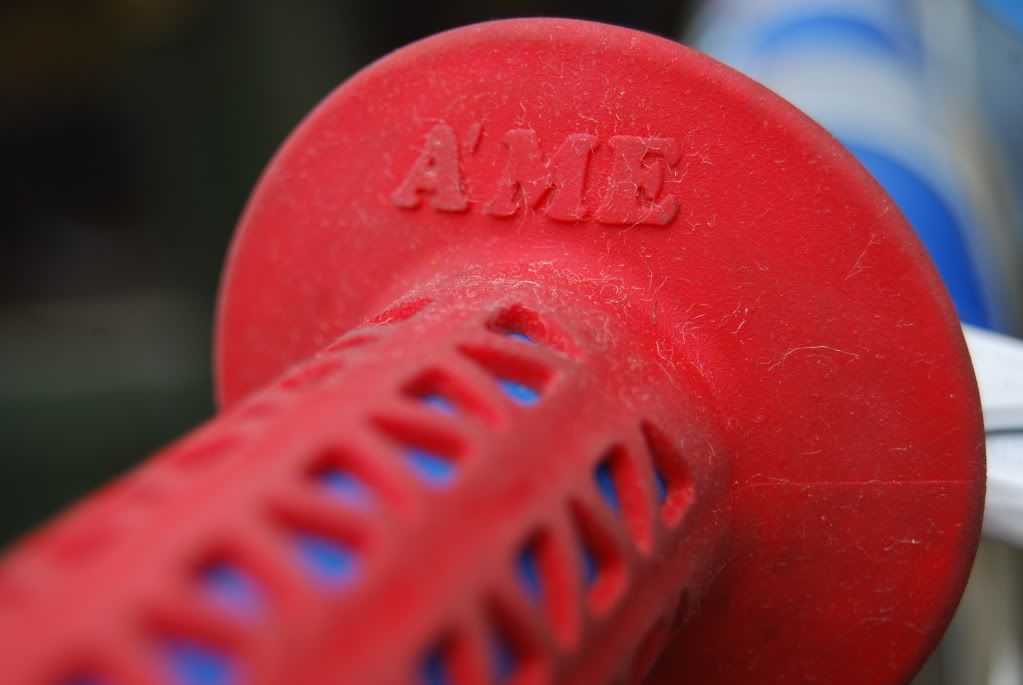 Its been an honour and a pleasure building this bike for Craig, recreating a piece of BMX history, not just for the Raleigh nutters but for UK BMX….
Craig Schofield – 1985 WORLD CHAMPION – Team Aero Pro Burner.
How's this for an Historic Raleigh BMX Line-Up.
ALL ORIGINAL RALEIGH TEAM AERO PRO'S
1984 - Craig Schofield Replica / 1985 - Craig Schofield WORLDS / 2010 - Dave Hall Old Skool Race Bike.
My 84' Replica has had a couple of bits upgraded since it won Bike Of The Show at last years Burner Bash & 3rd place at the Preston Old Skool Grands.
A'me Grips with the correct Logo (Bubble)
Single Pinch Redline Flights (now with correct fittings JJ
)
Its gonna be difficult letting this go back to Craig...
Hope you guys like...